Featuring
The Trump Swatter
Trump Swatter
Mansavage Productions Catalog Product Number 35
18" long with a 3.5" square head.
Made of corrugated plastic.
$2.49 plus $3.99 shipping for one Trump Swatter.
Order more than one Swatter using the PayPal button below.
Order by clicking PayPal button below: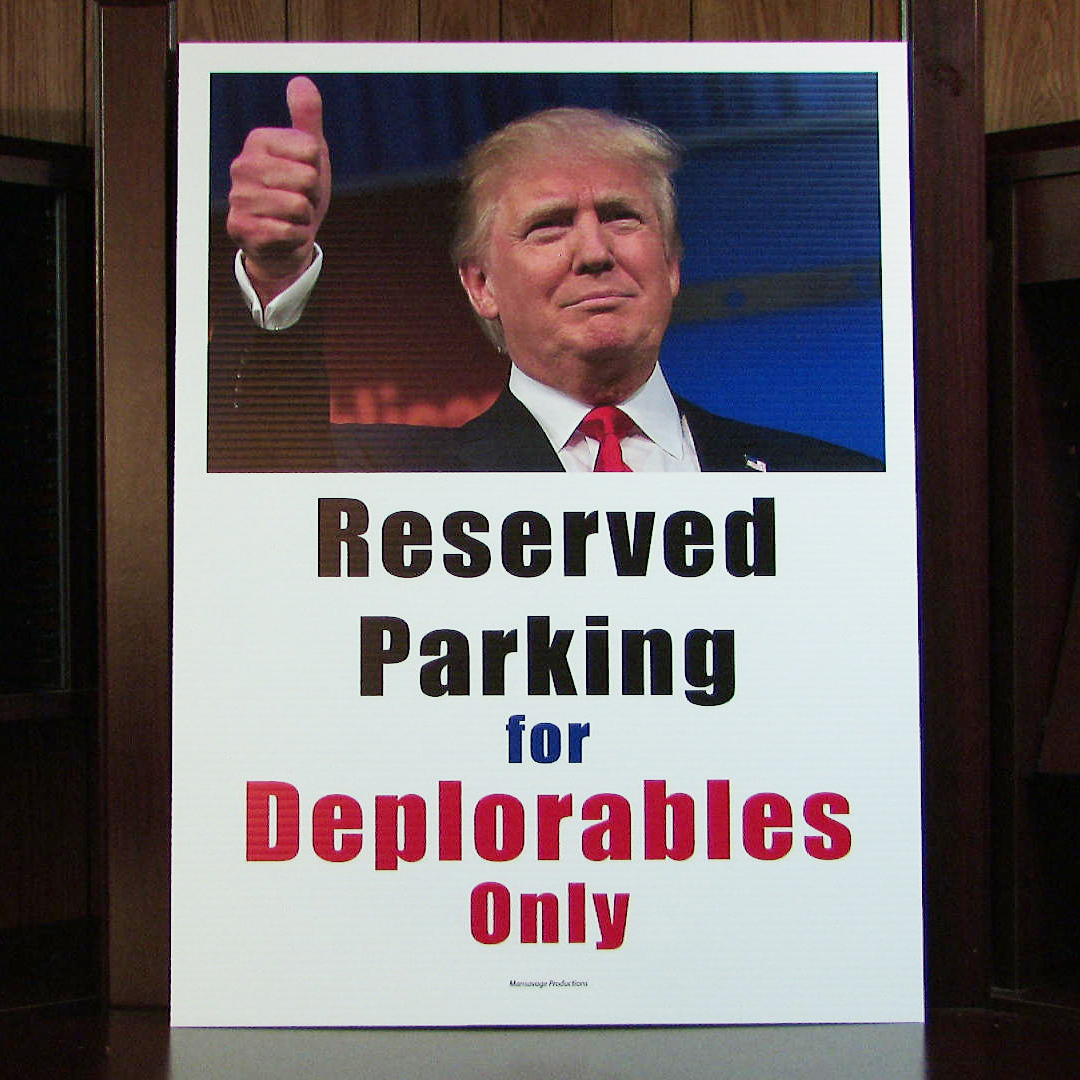 Trump Reserved Parking For Deplorables Only Wall Sign
Bulk Package Of 20 Signs
Catalog Product Number 27
20 Signs For $259.00 plus Shipping
Contact Mansavage Productions For Ordering Instructions.
---
Welcome to the Mansavage Productions Online Shop! Here you will find high quality lawn and yard signs at low cheap prices. Mansavage Productions signs are printed on 4 mm thick opaque plastic. This ensures that the back side of the sign won't show through when looking at the front side of the sign. This makes the sign easy to read. Our signs are 100% made in the USA.
Our lawn sign stands are made of heavy duty metal, and are designed to hold your sign secure. Our stands are designed to be easy to assemble to the sign, and are the perfect size for a great looking lawn sign. We offer the stands with a sign for only $2 more.
Save money on shipping! Contact Mansavage Productions to arrange for you to pick up your order in the Minneapolis Saint Paul, Minnesota, metro area and surrounding suburbs. Orders of multiple signs might quality for free delivery within the Twin Cities area. Call or email us today to see if your order qualifies!
We are product shipping experts. We ship fast. We ship in custom designed packaging to ensure that your sign arrives in the same great condition as when we shipped it. We generally ship your sign to you the same day you order it, with a 2 - 3 day expected delivery time.